Nissei 40 make:-1988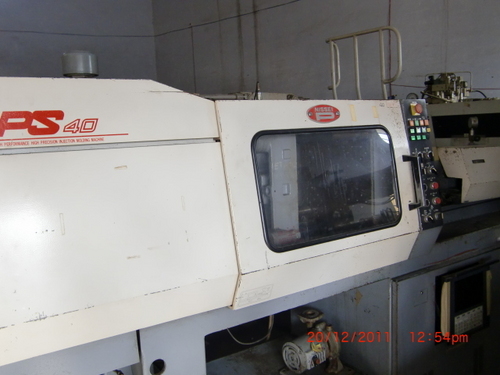 Nissei 40 make:-1988
Product Description
Nissei 40ton

Plastic Injection Moulding Used Machine

Our Plastic Injection Moulding Machines have four variants, with different shot capacities, die clamping, injection force, heaters, motor, tank sizes and die sizes. Their drafting features allow easy assembly intent fixtures.

The production process of these machines is monitored very carefully to make sure that the moulds are defect free, so that no discrepancy occurs when they are being used to manufacture the injections with desired specifications.
Plastic Injection Molding Machine

We provide the range of fully automatic plastic injection moulding machines to our customers. We offer these products in global market within definite time and at affordable prices, with following specifications:


| | | |
| --- | --- | --- |
| Make | | NISSEI 40TON |
| Model | | PS 40 |
| Making Year | | 1994 |
| clamping force | Ton | 40 |
| screw diameter | mm | 22 |
| shot weight PS | g | 42 |
| shot volume | cm | 60 |
| injection pressure | kgf/1/2 | 1940 |
| tie bar distance H x V | mm | 250 x 250 |
| mould height min | mm | 100 |
| mould opening stroke | mm | 350 |
| Total Opening ( Daylight) | mm | 350 |
| Ejector stroke | mm | 100 |
| Ejector Force | Ton | 8.3 |
| main motor | Kw | 11 |
| heating total Load | Kw | 4.6 |
| machine weight | Ton | 2.4 |
| dimensions of the machine L x W x H | m | 3.95 x 0.84 x 0.92 |
| Oil Tank | | 900 |